Wedge Racing in 2021

Sebring - January (MAJORS Hoosier Super Tour)
The day before we were planning to head to Sebring, I discovered a FLAT on the inner left rear of the motorhome ( I think that dually rigs are FIXED so that only the INNER tire can go flat first). It had made it home from the Road America Runoffs since I got no TPMS alarms, but .. it was totally EMPTY of air now. I called all around the Athens and Atlanta area, but could find NO ONE that had a tire in stock - my only option left was to put on the spare .. that was already over 9 years old. Linda and I talked about it .. a LOT, but ultimately decided to head on down and see if we could make it. Well... NO - we couldn't. About an hour out of town, I started getting alarms from the spare (now on the ground). We knew we should turn around and head back.. but we're not very bright - so I stopped to check and the tire LOOKED OK except for the air pressure .. which was too HIGH instead of too low. Genius me, I decided that the spare had been sitting around a few years and MIGHT have excess water vapor inside it .. which was now getting heated .. and converting the water into 'steam' and thereby increasing the pressure. I let out about 20 PSI and we continued on down the road. We made it to Cordele, GA when the gator let go - the entire outer tread of the tire becoming one of those things that we all see lying in the middle of the interstates. I slowed into the emergency lane and made it to the next exit .. which just happened to have a closed truck stop on it... so LOTS of asphalt to park on, but no tires to be had. We called all around the area to no avail. Again NO ONE had anything in stock that would work. Over the next 3 hours we called in an ever increasing circle to every RV or TIRE place we could find on the internet .. and FINALLY found a store in Valdosta that actually HAD 3 tires in stock. Well.. we needed TWO of them since the 'bad' spare had caused the adjacent tire to wear ferociously and was now BALD too. At that point, we really had no choices.. Fortunately, the RV place also had a 'road truck' to provide highway on site service, and he was able to get his service man on the road headed our way in about half an hour. That still left ~90 more minutes for him to arrive.
He did arrive in about 2 hours and was able to install 2 new tires and send us on our way in about 30 more minutes. While he was changing the tires, Linda and I discussed our situation.. do we head back home? .. or try to continue on the remaining ~300 miles .. and then BACK ? By the time the tire changing was done, we had decided to soldier on and hope all of our tire problems were covered .. at least for the next 4 days. Again, we were fortunate and had no more motorhome issues during the trip.
We had changed SEVERAL things on Vicki following the '20 Runoffs. Seems NONE of them worked .. and a couple were just plain WRONG. The handling was miserable .. at least compared to what we WANTED it to be. We didn't qualify poorly by POSITION, but it was really POOR by TIME. I wasn't in the hunt even for the podium (top 3). I spun a couple of times, ruining some tires in the process and just could NOT seem to get going in the right direction. Last year, everyone was trying to catch up to ME.. this year, I'm 'out to lunch' for basically the entire weekend.
Race 1 - I started out OK.. Got a good run at the green and was in 2nd for a while.. then dropped down the field till I was in 5th.. and that looked to be where it would end. However, I moved up a spot when Donnie got involved with an FF, taking him off track and almost into the tire wall.. and Filipkowski got 'caught out' in the same incident.. THEN Mitch RAN OUT OF GAS on the LAST LAP .. UNDER YELLOW (for the FV/FF contact involving Donnie).. and, somehow, I ended up SECOND! Wow.. from 5th to 2nd on the last lap - I call that LUCK.. the GOOD KIND!
Unfortunately, the good luck ended there. My problems continued and I finished a distant 5th in Race 2.. 2 seconds or so off the pace.
We have to FIND something to fix!
OH.. and my Spec Tire lap record from '20 evaporated in both races .. ending up with a new record of 2:38.348 by Chris Jennerjahn (reigning FV National Champ from last year's race at Road America).
*******************************************************
Road Atlanta (#1) - March - HST Super Tour MAJORS weekend

OK.. we made a few more changes. The biggest thing we found was slippage in the shifter linkage. Getting that all tightened up made a MAJOR change in the way shifting felt and worked. We also UNDID the increase in rear BUMP setting that I raised last fall to keep the rear from bottoming out at Road Atlanta with the DZC tires/wheels. Then softened the bump setting on my Penske red front shocks and put them back on the car in place of the BLACKS that I'd been using. In Q1 the car felt great and I was running with 2 of the 4 Whitston clan down from Wisconsin (to see what it was like to run on a REAL race track
). THEN.. it happened. On the last lap of that session, a FF spun coming out of T10b.. having JUST passed us 3 vees. I happened to be the 3rd vee at that moment - the 2 vees ahead of me were able to avoid the spinning car, but *I* got STUCK in the middle .. where the FF was and CLOBBERED him .. nose to nose.
. I ended up qualified 3rd, with a BENT front beam and torn up nose. Of course, I had no spare beam that would fit Vicki, so Linda and I removed it and took it home (fortunately not too far away this event) to see if it could be straightened.
About an hour travel time and then about FIVE hours of work time and we had the beam 'close enough' to be useable again. Another hour to get back to the track and then install it for Q2 the next morning. I guess it all worked OK and I ended up with the fastest vee lap, but all laps were slower that session, so I would start 3rd for the first race.
Race 1. The start was good and the car ran well.. until I dropped a tire off the left side curbing coming out of T7 ... then looped across the track and backed into the CONCRETE barrier on the inside. Fortunately, I had slowed significantly by the point of contact and the only damage was to the exhaust pipe - knocking the collector extension off and basically DESTROYING the collector itself. I got going again and was able to finish a distant 4th.. probably GOOD, since I didn't have to go to impound (top 3 only) where I might have been declared illegal for 'improper exhaust'. On the cooloff lap, I stopped at T7 where I hit the wall.. took a quick scan and spotted the errant exhaust extension... hopped out of the car, grabbed it and then got back in, buckled back up and drove 'triumphantly' back to the paddock.
Back in the paddock, I surveyed the damage - there was NO HOPE for the collector.

Linda and I went home again to see if there was anything I could come up with to replace it. At home, I found an older collector and was able to cut the last section off of it and graft it on, in place of the destroyed last section. Then I welded the 'found' extension back onto the repaired collector.. to complete ONE useable collector from two for the Sunday race. Back at the track, I also made a small change in the rear suspension to hopefully 'calm down' the rear so that it would not have quite as much propensity to SPIN when slightly out of shape. However, during Race1, times had been pretty fast in the lead pack and I dropped a spot on the grid to start the Sunday race from 4th.
The temps warmed up a bit for Sunday.. now in the 60's rather than 40's and 50's so everything felt better. The start was good and we had a 4 car lead pack - 2 Whitston's, and me and Donnie for the 1st half of the race. Somewhere along in there, a FCY slowed us all down, but after the restart, I gradually fell off the pace and got separated from the lead 3. A couple laps later, Zack must have made a mistake and fell back closer to me. I caught Zack, but Donnie and Andrew had about a 10 second lead on us. Zack and I worked together to close the gap so that we all 4 ended up back together as we took the white (last lap) flag. Coming down the back straight, I was 4th, but I got a great draft for the run down the hill into T10A and was able to pass all but Andrew.. I MIGHT have beaten him too, but at the time, the risk seemed a bit too high.. so I followed him through 10A and was able to hold off Zack at the bridge to finish 2nd. Donnie had gotten the worst of my pass and ended up a VERY close 4th at the line. A super finish by all after a really tough race. Donnie also reset the Spec Tire lap record (set by Andrew in the Saturday race) to nip Andrew's time by a couple of hundreths of a second - new record laptime of 1:43.747. My change to the rear seemed to work and Vicki was great! But.. we were still too slow on the straights.
*******************************************************
VIR (Virginia International Raceway)- April 8 - HST Super Tour MAJORS event
Back at home between races, I got busy and was actually able to REPAIR my original 'last section' collector and build a new collector. Would it be better? Won't know till we get to VIR...
P1 was wasted.. we only got ONE LAP due to havoc all around the track. Nothing learned.
Q1 (Friday) - Vicki felt pretty good handling wise, but still didn't have the poop down the straights. Compared to my Runoffs speeds in 2019 (the 2020 race got CANCELLED due to COVID), I was down about 5 MPH. Then in Q1, I managed to spin (yes.. again) and created some new fiberglass damage to repair. After the session, I found a problem with the throttle cable.. a good chance we hadn't been getting FULL throttle since .. some time during the Atlanta race...

Not too long after Q1, the skies grew DARK .. I mean REALLY DARK. The weather service was sending out tornado warnings in a rough 25 mile circle almost centered on the track. After some REALLY HEAVY RAIN, the track was shutdown for the rest of the day - still looking quite ominous. 2 hours later, the skies had broken clouds, with a bit of sun showing here and there.. but all of the workers had already abandoned their stations.. so we stayed CLOSED.
For Q2 (Saturday) I installed my 'newly built' collector and .. with the throttle fixed, had hopes for a much better session. Well. we got THREE laps before a full course yellow, then BLACK FLAG ALL. I figured the session was OVER and went on back to our paddock spot.
R1- the race went great (by my recent standards) and Donnie, Jeff Filipkowski and I broke away from the rest of the field until the RAIN started. Almost every car in the group spun at one point or another as we struggled around with the rain getting heavier and heavier.. Finally (thankfully) the checker was thrown early .. while there were still a few cars left. Donnie won, with Filipkowski in 2nd and me in 3rd. I was quite happy to settle for 3rd so I didn't have to try to negotiate any more turns on that wet track with SLICKS!
R2 (Sunday) - I made a few more minor changes .. still trying to find something that would solve all my problems .. but it turned out to be a waste of time. Although we started and ran reasonably well for a few laps, the CLUTCH pedal hit the floor before half-way and I was DONE. You can DOWNshift a synchronized gearbox reasonably well without a clutch.. just slows you down 'a bit', but the UPshifts cannot be dealt with in ANY way other than to WAIT until the engine slows down enough for the next gear to 'drop in'.. that costs MANY SECONDS .. way TOO MANY to be worth the effort. So.. we packed it in and hoped for a better weekend at the next event. DNF for this race.
**************************************************************************************************************
Pittsburgh International Race Complex - PIRC - Wampum, PA 4/28-5/1 HST Super Tour Weekend
The tow was uneventful and we arrived in time to WATCH some of the practice day and get a decent look around the track. I had been able to find a simulator version of the race track, so had a decent idea of how the turns were laid out. Still.. nothing beats BEING there. The weather was quite cool .. you could even say COLD with the misty conditions. Fortunately, THIS would be the only really rainy day. The forecast was for warmer temps and DRY.
Friday - P1 was my first time on track... fortunately, I had scouted out the location of the grid and how to get there on Friday - else I might never have gotten onto the track. The track was still damp from overnight rain, but it gave me a chance to get a real feel for the track and a real LOOK at the BLIND corners - of which there were several - some MORE blind than others. Although we only got about 4 laps due to a BFA, I felt .. OK.. after seeing it from the driver's seat before having to deal with Q1.
Q1 - guess what? IT RAINED! (so much for the weather forecast). I was all set to go out, but the rain started less than 5 minutes before our session .. so I decided that it was probably better for me to skip that session, rather than taking a chance. No sense messing up the car at this point... and if I went out... I MIGHT be tempted to TRY TO go faster than my existing skill level.
Saturday - Q2 - The track was finally dry, but off track everything was still WET and it was quite COLD (low 40s). Staying on the paved part would be at a premium! I planned to gradually pick up my pace, but things got exciting on the 2nd lap when Jon Adams spun in front of me at T3/4 and I spun to avoid. Miraculously, we both went spinning off the track doing a full loop in unison, and coming to a halt.. just inches between us .. and inches from the guard rail! I was envisioning making the long tow home with a badly crunched car. (I had my eyes closed until we came to a stop!). We both got going and the rest of the session was pretty good for me. I ended up running a few laps with Rick Shields - this being a 'home track' for Rick, so he KNEW the way around and it helped me a bunch to come up to speed. I ended up in the 5th starting spot, only a couple of seconds off the FV fast time.
Race1 - It started off great. I stayed with the lead pack of 5 cars and we pulled away from the rest of the field. Unfortunately, I got a tad overzealous and spun at T5 .. on my own.. and didn't HIT anything - however I watched the entire field go by as I got the car recranked and back onto the track. OH WELL.. I ran quite a few laps pretty much by myself.. catching and passing a car here and there. But it gave me LOTS of time to really come to grips with the track itself. We had 3 FCY laps to clear a spun F5 highsided on the apex curb at T17, but I was able to drop my average lap time another second and was feeling pretty good by the end of the race. I was running 5th, but inherited 4th with 1 lap to go when Chris Jennerjahn lost his motor. Now only about 1.5 secs off the leader's pace.
Sunday - Race2. All went pretty well for us .. mostly. I ran with the lead pack again and was able to even move UP. Rick managed to spin himself out of the lead handing that position to Brian Farnham and Chris lost another engine while I latched onto 2nd place. Rick worked his way back up and passed me for 2nd, then went on to run down Brian to take the lead again.. Brian later spun at T9 bringing me back up to 2nd where I ran for a few more laps before I ran out of talent and managed to spin .. on my own again, at T7. I'm still not quite sure what happened to cause my spin - other than lack of talent - but I watched 3 cars go by before I could get back on track. I was able to run 1 of them back down and pass for another 4th place finish. Not quite what I was hoping for, but still a pretty good weekend for us. Undamaged car loaded into trailer - ran with the lead pack (for the most part) - no towing issues and we visited and "conquered(?)" a new track. I liked the challenge of the track and we'll probably make that trip again next year.
**************************************************************************************************************
Carolina Motorsports Park (CMP) - Kershaw, SC - 5/29-30 Majors Weekend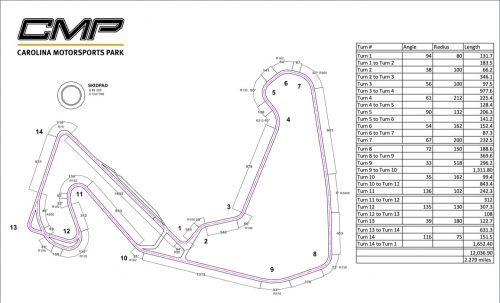 Although I had raced here before, my last visit to RACE was back in 2008. Guess not too much has changed .. except for a repaving last year. I did TEST here however in 2019 with Vicki.. who had PROBLEMS big time all day. Anyway.. we were here for a Majors race and Vicki had at least MOST of her problems solved by now. This was just a 2 day event, so not much track time to work with. We started right out with qualifying on Saturday morning.
Q1 - I started out on old well used tires. I "knew" the track, but not since the repave. I couldn't tell any difference at all. I did run out of tires at the end though. The LF locked up and went to CORD.. guess that set is done! I still qualified on the front row, but Mitch nipped my best time by a half a tenth for the pole.
Race1 - between sessions, I made a carb jet change and put on some decent tires. I also (accidentally) found some leaks in the exhaust collector - that was costing me some HP. Got them all fixed thanks to the welder I carry. We immediately broke Mitch, Greg and myself out to a leader pack and spent the entire race swapping the top 3 positions. The car and engine felt great and I got the lead and a chance to break away several times, but just couldn't get quite enough lead to clear them. I was able to make the pass on Mitch coming to the line for the win ... and also had the fastest lap time to set a new Spec Tire lap record.
Q2 Sunday - My RF tire was getting pretty worn, so I bolted on a new one on the LF and moved the old LF to RF for the session and only ran 3 laps to scrub the new one in. Also checked the exhaust collector again after the session for leaks. Greg and Mitch both put on NEW tires and just scrubbed them in during the session as well, so I ended up with the pole, just a tic faster than my Saturday race time.
Race2 - In the race, we had the same 3 car lead pack as Saturday, but I decided to NOT make such an effort to break away this time. Probably would have ended up the same way anyway, so I bided my time and let Mitch and Greg do most of the leading. After a few laps, Greg dropped off the pace, leaving only Mitch to contend with. On the last lap, I decided that I should probably NOT wait till the last moment and passed Mitch to take the lead coming into the back straight kink. It did seem that I caught him off guard and I was able to exit onto the front straight with a decent lead to the flag. I also lowered my track record a couple more tenths to 1:48.091. That's still almost 2 seconds off the old (NON Spec Tire) record set back in 2008. This tight track puts a premium on tires.
**************************************************************************************************************
Watkins Glen International (WGI) - 6/18-20 HST Majors Weekend
Another track that I'm familiar with, but haven't visited in several years. It seems to come back pretty quickly though, once I've raced somewhere - a bit like riding a bike.. only easier. The competition was TOUGH this weekend with 23 vees in attendance - including several National Champions, but a little more track time to work with since it was a 3 day event. After we arrived.. and a bit of SEARCHING around to find a way IN, we were able to register and get inside.. and even were able to find a decent spot - semi level and with ELECTRICITY! (for a fee)

P1 Friday - I started with OLD tires, as usual. Just a session to refamiliarize myself with the track and make sure the car was working properly. I was the FASTEST car .... of the SLOWEST cars
. Just above the middle of the pack. Andrew Whitston set the bar way out there, some 5 seconds faster than my time.. but I wasn't trying very hard ... I hope.
Q1 - Found a dragging brake after P1 and put on some 'less old' tires .. and knocked about 2 seconds off my time for 6th on the grid in the 4 laps before RAIN shortened our session. Not much, but enough.. no way do I want to go down that hill into the boot with slicks on a damp/wet track. Get back in one piece and go over the car again for tomorrow.
Q2 Saturday - Nice day today... 70's and DRY and we were going to go with NEW tires this time. Didn't help.. someone dropped OIL on the track right away and covered the track from the bus stop into the boot and out of the boot.. BFA to clean up the track. We sat there in the pits quite some time before they finally let us back out.. then only 1 lap more and another BFA.. and we were done. A couple guys got decent laps and dropped me back to 8th, but the car was still feeling pretty good.
Race1 - I got a great start and moved up a couple spots before T1, then got involved in a knockdown, dragout fight for 2nd place as Andrew just walked away from the field. The car was great and I ran as high as 2nd and as low as .. 15th? or so. I was in a pretty good position with 2 laps to go, but lost 4 spots heading for the bus stop as I got 'freight trained', but was able to get 2 of them back on the next lap to finish back in 8th place. A great race I felt. The car and engine were great and I just got a bit unlucky near the end. I did turn my best time with a 2:17.1 (against the fastest lap of 2:16.6) which would put me 4th on the grid for tomorrow's race.
Race2 Sunday - We got another great start and I moved into 2nd place by T1 to follow Andrew. I was right on his tail till we got to the bus stop. Then... suddenly he was well ahead. I don't THINK I messed up, but he was just plain FASTER through there. Anyway, I held onto 2nd all the way around to the front straight .. and then only lost a couple spots .. then we were all racing for 2nd again - by then, Andrew was GONE .. again. Another great battle for 2nd for most of the laps. Near the end of the race, I managed to get passed by a PACK again, but hung in there for a close finish in 6th as I battled Jeff Filipkowski and Mitchell Ferguson. Jeff got me and Mitch didn't. Andrew lowered the Spec Tire lap record a tad and I went a bit 'slower' with a fast lap of 1:17.9 this time.. but the car felt great, we had a great battle and no major incidents .. and I loaded up a perfect car again for the LONG town home.
A good (but LONG) tow home to wrap up a good fun weekend.
**************************************************************************************************************
Grattan Raceway - Belding, MI 8/19-22 SCCA Majors Event
This was not an HST event, so would only be a 2 day event.. and it was a LONG TOW again.. and I had NEVER been here before .. and I was unable to find Grattan on any of the racing simulators.. so I had to rely on the few videos I could find to try to figure out which way the turns went... SO, I elected to run the TEST DAY... one of the very few that I run. The track was VERY complex with lots of sharp BLIND turns over a relatively short distance (same distance as Roebling, but with 5 more turns and a LOT of elevation change). Quite tough to come to grips with.
I also had a newly rebuilt engine in the car and a new RF wheel/brake assembly ... just for a few more 'issues' to deal with. P1 went well, but we came back in with 3 dragging brakes .. including both fronts - never a good thing. I came 'up to speed' (what I could manage) pretty quickly, but there were FOUR turns that I just couldn't seem to get right. I couldn't find any 'markers' coming into them to help me decide when I needed to STOP accelerating and START braking. Add all 4 of them together and I was at least a couple of seconds off of a decent time.
P2 went a little better as I started to 'make up' markers for myself. One VERY interesting point on the track was coming out of T4 there is a HILL.. I mean a 'stomach thriller' bump. Some of the cars in other classes were even lifting both rear tires completely off the ground .. and that's coming into a 90 degree hard right turn. It took some nerve to go over that bump FLAT OUT.. knowing that I had, maybe, ONE CAR LENGTH after the suspension came back down to BRAKE and DOWNSHIFT and TURN .. all at once. Pretty fun, though, once you (kinda) figure it out.
P3 - I'm starting to get a decent FEEL for the track .. at least most of it, but alas.. the engine had had its fill of feel. On the 3rd lap, I felt it tighten coming down off that BUMP and moments later, that ugly noise of BAD THINGS inside the engine. That ended our test day - time to swap back to the old engine. At least I could run the track in my dreams overnight. I was also still having RF braking trouble as EVERY session led to a dragging brake on that corner. Still trying to figure out what's going on there.
Considering how far NORTH we were, the most amazing thing was the TEMPERATURE... we were in the high 90's pretty much all weekend (except when it rained Saturday night). VERY hot for doing all this work on the car. Anyway....
Q1 Saturday - Still using old tires and still learning the track.. but getting better - just not quite able to put all the turns together in a single lap. Ended up 8th of 16 cars. Could be worse.. and still on old tires.
Race1 - Put on some 'better' tires and made another carb jet change - still WAY hotter than expected. We had a pretty good race. Each lap getting a wee bit better, but not yet connecting all the dots. We did move up a couple places for a 6th place finish. After the race We spent the next couple hours swapping the RF back to the old drum and brake assembly that I had replaced in prep for this race - can't figure it out and no time left. Then it was off to DINNER hosted by the track. NICE to have that meal and rest for the evening.
Q2 Sunday - Finally the temps dropped down and were in the high 70s. Still a HOT sun up there though. I found that after replacing the RF assembly, the RF now LOCKS UP every time I hit the brakes. Thankfully, I still had on my 'not so old' tires - saving the newer ones for Race 2. It got better during the session but was still pulling pretty hard going into T1 (heaviest brake point). Still working with the brake pull, I was finally able to get a decent lap at the end.. but it wasn't going to be enough. Still hoping it will get better in the race. I remained 8th on the grid for today's race. I would 'up' the level of old tires for the race with a 'lesser old set' of old tires.
Race2 - With MOST of my braking problems under control and a few more laps under my belt, I had some hope for the race. I was VERY PLEASED when the green came out and I was able to pass 3 cars going toward T1... however, I had to be extra special careful so as to NOT put a nice FLAT SPOT on my new(er) RF tire, so braked quite early and lost 2 of those spots. I tucked in and hunkered down. Andrew (ABBOTT this time) and Jeff Loughead joined forces and gradually pulled away from the rest of us and I was in a pack of 5 cars fighting for 3rd. I could see Alex Bertolucci in my mirror behind me .. just waiting. On lap 3 he passed me on the front straight and pulled away. I was able to beat Alex yesterday, but today he put on new shoes... me.. not so much. It was quite clear that tires were IMPORTANT at this track. With P1,2,and3 gone, my group was now fighting for 4th.. but I was right in the mix and our times were not noticeably slower than the leaders.. but we weren't closing on them either. About halfway through the race, Brandon Abbott (yeah.. his brother) passed me going into T1 (me still fighting under braking .. but still getting better as the shoes reseated). We went around to T3 and I was right on his tail when he 'hiccupped' going into T3.. I NAILED him pretty good, but we both kept going and continued the racing. Bill Styczinski was right behind me, but I gradually pulled away. I was keeping Brandon in sight and going pretty well with 2 laps to go but made a mistake in the hairpin that cost me a couple of seconds and put Bill right back on my tail. He was able to draft by on the front straight and lead into T1 .. and hold that position to the finish line... with Graham Loughead now right on my tail as we crossed the line for 6th and 7th places. I turned my best time of the weekend near the end .. even though I was quickly running out of front tires. My best lap being a 1:28.361 and the fastest lap being from Alex at 1:27.641. SO.. not too far off the pace.
Another great weekend for the team - two 6th place finishes in good company. Linda had been wanting to CHECK OFF Michigan in her 'states visited' list and that accomplished, she's now down to only 2 left. I think Idaho and Minnesota. We might never find a race in either of those states... Loaded a good car and had a nice LONG but uneventful tow home.
Next up is INDIANAPOLIS - my first trip there too.
**************************************************************************************************************
Runoffs - Indianapolis Motor Speedway.. Grand Prix Configuration - September 17-Oct 3
Uneventful tow up, but we arrived about 30 minutes too late to get inside ... due to sitting on the Interstate for 45 minutes in a traffic jam from work alongside the road. For some unknown reason, they simply HAD to park the dump truck IN the right hand lane rather than off beside the emergency lane .. woo boy!

Anyway.. we got there safely and got inside Sat. morning and got parked and all set up. We were in the paved lot next to the Museum - a nice, reasonably level, PAVED spot (in case we ended up with "2019 VIR LIKE" rain).



That's our spot.. and, yes... that's a lawn CHAIR across the cockpit. It was pretty HOT most days and the chair helped to keep the SEAT (and gas) "less hot". There was too much wind to use our umbrella.

Once all parked, we had the rest of the day Sat and all of Sunday to walk/ride around and see what the place looked like .. and mostly what the TRACK looked like. I had 'raced' about 85% of the track configuration on my computer simulator, but the 'carousel sequence' from T3 to T6 would be totally new to me. Sadly, there was pretty much NO place to be able to view it well. The 'spectator berm' placed there for .. spectators.. was CLOSED. Not sure why, but presume it was the LAWYER's fault! Our first on track experience would be during the Monday test day.. only 2 sessions, but that's more than NONE.

Monday Test. For me the first session was reasonably decent .. considering there were 18 FC cars out there with 25 vees plus some FF and F5 cars... and there being something around THIRTY seconds/lap difference between 'them' and 'us'. Needless to say, it was MAYHEM. Several CRASHES .. either between.. or caused by ... the speed difference in the classes. I think we got TWO laps total .. the rest of the time we (those that were not CRASHED) spent in pit lane under BFA. Thankfully, the Race Director and Chief Steward recognized the problem and decided to SPLIT the 2nd (there were ONLY 2) session into TWO 'half' sessions.. so that the FC/FF/F5 cars would not have to deal with the Vees and the Vees would not have to deal with them.. and THOSE sessions turned out great for everyone. NO crashes or BFA's in either session. So.. we DID get some 'at speed' track time finally. I got a decent handle on the track and the 9th fastest time of the 25 vees that went out. At the end of the day, we attended the big SCCA "Welcome Party" to have some din-din and listen (briefly) to a very LOUD local group brought in to entertain us mostly old folks .. and we are ALREADY deaf, thanks.

Q1 Tuesday - we were scheduled for around midday for all Q's. I started near the front (7th) due to my position in the HST National Points, so had a chance at some decent laps. Things went pretty well and I managed to maintain control of the car and keep it on the pavement most of the time. We started 49 vees and I ended up in 8th with a 1:59.5 (the 2017 pole time was in the '55's, but it was on the old tire - not the Spec Tire) while the fastest time was 1:58.1. I thought that was not too bad for my first session on good tires... and still learning the track. After getting back to the paddock and studying my data and the exhaust system (for color), I decided that the rings were not yet seated in the freshly rebuilt #7 motor... so decided to change to 'old reliable #6' since it had several weekends on its rings and had a fresh 'refresh' of the heads & valves.. ready to go.

Q2 Wednesday - Today we start based on our best time from Tuesday.. so I started 8th.. still in pretty good company. The session started out well and I found a nice pack of cars to run with. On the out lap, Dennis Andrade pulled off the track just out of T6 on the Hullman straight. We completed that lap and one more, then received a FCY when the 'powers that be' decided that Dennis needed to be towed to a 'safe place'. As we went by Dennis (under FCY), the tow truck had him hooked up ready to move him. As we came onto the front straight, the yellow was dropped at S/F and we went tearing off toward T1.. As we went by the T1 flag station, I could see 'movement' in that station and as we passed it toward T2, I saw double yellow again.. and suddenly RED FLAG!... my 3 car group slowed as we passed the T2 station and slowly worked our way around T3 (we had good view .. and were moving to a place where we could see the T4 station) where we stopped. All cars behind us also stopped. We sat there for several minutes .. wondering what was going on .. then finally, one of the station workers stepped over the barrier and walked closer to us and told us that something had happened during a flat tow. He had a radio and a few minutes later passed on information about a RACE CAR ROLLOVER during the tow. I had SEEN that happen many years ago at Road Atlanta.. where the tow truck driver turned a sharper angle than the race car could manage... but kept pulling the car at a 90 degree angle.. and being tied to the roll bar, drug the car (this was a production car) to the side until it tipped up on 2 wheels and continued on over onto its 'head' - trapping the driver. In THAT case, the tow truck was only moving VERY slowly, but apparently the towing driver could not SEE the race car since it was on the other side. In THIS case, the tow truck was HARD ATTACHED to Dennis' car and towing it at a high speed (for towing) down the straight .. I presume he was 'rushing' to clear the track before the pack caught back up. When the tow truck came to the 90 degree left hand turn at the end of the straight,... he TURNED LEFT .. without slowing down or taking a wide arc that a race car could manage. Poor Dennis (thankfully fully strapped in) had NO WAY to slow the truck.. was waving his arms franticly (as much as he could with the arm restraints we are required to wear) to no avail. As the truck turned the sharp left, Dennis' car was SNATCHED off the ground (at ~40+? MPH).. then was swung around like a skier at the end of a rope, became INVERTED as the rope became even tighter and SLAMMED down onto the asphalt on his roll bar .. where the car bounced up a foot or so, then slammed down a second time .. and then was DRUG upside down on the pavement for another 30 feet or so until the car spun around enough to fall onto its side and the tires dug in and flipped him back over right side up... all before the truck driver FINALLY realized there was a problem (probably due to the corner workers .. and everyone within view.. were all screaming.. blowing whistles, and waving arms) and stopped the truck.. the car was still sliding sideways and stopped just inches from hitting the truck.

This is really all incredibly hard to believe .. but it's TRUE. There is(was) a (poor) video of the incident on facebook briefly. I saw it several times to piece together the exact sequence written above .. that, and info from Dennis himself. I can't find it anywhere online now. Dennis was purportedly knocked unconscious during the incident and spent several hours in a hospital getting checked over. His CAR was not so lucky. He had a perfectly perfect car when he coasted off the track, but what the tow truck brought back to impound was many THOUSANDS of dollars from being drivable again. This was a truly unbelievable incident. Dennis' ONLY defense was that he was FULLY strapped in with his belts still TIGHT. Oft times, we get towed with relaxed consideration for belts being tight.. I think I'll be keeping mine TIGHT from now on.

OK.. that's over. We did finally get released from the RED and sent around to the pits for 'a while'. After a long wait, they released us back out onto the track and we got 3 more laps of qualifying. My best time was a couple of tenths slower than Q1, but I only lost ONE spot for 9th ... so far. We had no problems to work on ..and the brakes even seemed to be working great, so off to the big PARTY at the Pagoda.

Q3 Thursday - OK.. last chance to move up. Things were going pretty well and I was trying to set up that 'perfect lap', but it wasn't to be. I turned several laps within a few tenths of my previous times .. just before my shifter STUCK in NEUTRAL.. and I coasted into pit in. After the session was checkered, I got out and PUSHED the car into the grid area where I got out of the way and asked for a tow (scared thoughts!) back to my paddock spot. It took a WHILE but finally a 'monster golf cart' of sorts showed up. I had a short face2face with the driver before getting towed back with a

NOT HARD ATTACHED

strap ..that I could release if need be ... and I made it back without having to visit the hospital
. Later I found that I had turned my best time of the week.. but still DROPPED 3 more spots .. to start in 12th in the next day's RACE. Still .. not too bad in a 49 .. oops 48 car field, Dennis now being at least part of the way back home. FYI.. my 'stuck in neutral' problem turned out to be the shift shaft (hockey stick) SEAL to the rear trans nosecone. It had loosened and slid back to LOCK the shifting rod into the neutral area of the mechanism. At least it happened at a point where it didn't cause MAJOR issues and I could coast out of the way.

Later, more things to ponder.. more data to study.... more to check on the car .. but nothing significant found .. SO.. nothing to do but try to DRIVE HARDER
tomorrow.

RACE DAY FRIDAY -
I 'listened' (via the PA) to the starts of the early Friday races and was disappointed to hear that basically ALL of the races had started with a crash in T1 ... followed by several laps of Full Course Yellow. I remembered seeing the FV start in 2017 (in video) when 'we' (the vees) had also started with a huge T1 crash (miraculously ALL involved cars were able to drive away... 'cept some of them didn't get very far). I decided I REALLY wanted US to have a clean start, so I went around talking to a lot of the other drivers .. and found equal concerns, but no real solution. I finally ran down the pole sitter and we talked around several ideas .. and he (Andrew Whitston) suggested a 'slower' start ..so the speeds weren't so high going into T1. I then suggested a REALLY SLOW start ..like a SECOND GEAR start. Vees almost NEVER use 2nd gear anywhere except the pits or paddock, but we agreed that it made sense. Andrew, however, was concerned that the Chief Steward might be tempted to penalize him for NOT following the 'pace' set by the Pace Car. SO .. I told him to 'stand by' while I went and found the Chief Steward and Race Director. I told them about our plan and they were ALL FOR IT. Didn't care whether we kept the pace car speed or not.. as long as we could stay in a tight group before the green was waved. GREAT NEWS! I spent the rest of the morning (we were first race after lunch) tracking down EVERY SINGLE VEE DRIVER I could find and relating to them our plans to start the race in 2nd gear and the reason why. Amazingly EVERY SINGLE ONE agreed that it was, no doubt, the best chance we had of avoiding the T1 fiasco of 2017.



That's #80 .. in our 12th grid spot .. pretty close to the FRONT .. don't you think!! ??


RACE TIME. We made our pace lap and the pace car dropped us off at T12 (we had LOTS of room to work with from there).. then Andrew brought us down to 2nd gear speed and it all worked WONDERFULLY. Vees were the FIRST class of the day to get cleanly through T1 with no incidents. In MY case, the guy in front of me on the grid missed his 2nd to 3rd gear shift and I ALMOST clobbered him, but was able to dart off to his left and get by .. and even got a good run toward T1.

I'm the black car JUST to the left of the totem pole along the left side wall.... (you can also look at the totem pole and see '80' in 12th position...



Maybe I could have moved up a couple more places before the braking point, but decided I REALLY didn't want to be 'the guy' that ruined our carefully planned start. So I eased up a bit early .. lost a spot, but just focused on NOT HITTING ANYONE and hoped that the guys behind me were doing the same. I think I actually came out of T1 in 9th spot (up 3), but not certain. We completed lap 1 and then lap 2 with no issues, but lap 3 we went FCY for 3 laps with me still in 9th. At the restart, I got a GREAT run (not sure how or why) and was able to pass several cars before T1.. and came out of T1 in 5th! I even held that spot for the entire next lap before losing it .. just when the SECOND FCY came out.. so I am now stuck in 6th for 2 more laps. On the 2nd restart .. I'm not entirely sure how this happened either.... but I was SWAMPED by cars.. I think I dropped back to 19th! From there on, I was working as hard as I could to make my way back up toward the front. 10 laps later I had picked off about 1 car per lap on average to finish in 8th .. of 48. We were pretty stoked with that performance. And the car was (and still is) almost perfect. Hard to say if I might have finished higher with a (much) better second restart, but no sense in worrying about that. I'm really happy to have FINISHED and finished well (IMHO) in that field. ALMOST made it into impound, but I can live without the extra 5 or 6 hours that it would have cost us on the trip home. We were able to get loaded up and out of town before sundown and made it to a nice rest area for the night, before heading on home the next day.

To see some VIDEO, here are some links...


Friday races

(MY day)

are at

The vee race starts about 4 hours and 35 minutes in..


For the vee race alone.. without all the other races :-) ...

you can go to


The season is over. It was a good year for us and we visited several new race tracks. I hope to be able to do some more 'distance' traveling next season, but for now, we'll start with plans for Sebring the 2nd weekend in '22 and see where we go from there.

**************************************************************************************************************
Thanks as always to Rollin at ButlerEngines.com, JR at RoxannesHeaders.com
and ... Mike, John, Tim and Bruce at Hoosier tires (RaceTire.com) and Dietmar at QuixoteRacing.com
. Not to forget my wife, Linda, who travels with me to almost every race, and suffers me the joy of racing for all these years!

(SEC races in

yellow

)
Race
Qualified
Finished
Points
Majors

notes
Sebring

MAJOR

#1
4
2
21
Lucky
Sebring MAJOR#2
4
5
16
Not so lucky
Atlanta MAJOR#1
3
4
17
T7 spin - hit concrete wall
Atlanta MAJOR#2
4
2
21
Good last lap pass
VIR MAJOR#1
3
3
18
Rain shortened
VIR MAJOR#2
4
9
12
Lost clutch
CMP MAJOR#1
2
1
25
CMP MAJOR#2
2
1
25
PIRC

MAJOR#1

5
4
Out of conference

PIRC MAJOR#2

5
4
"
WGI

MAJOR#1

6
6

WGI MAJOR#2

4
7
"
Grattan

MAJOR

#1
8
6
"

Grattan MAJOR#

2
7
6
"
Season Total SouthEastern Conference
155
2nd Place in Conference!
Season Total HST National Points
124
4th Place in the USA
---
---
All rights reserved - ©Copyright 2001
This website supported by WedgeRacing.com
Please send comments to the webmaster